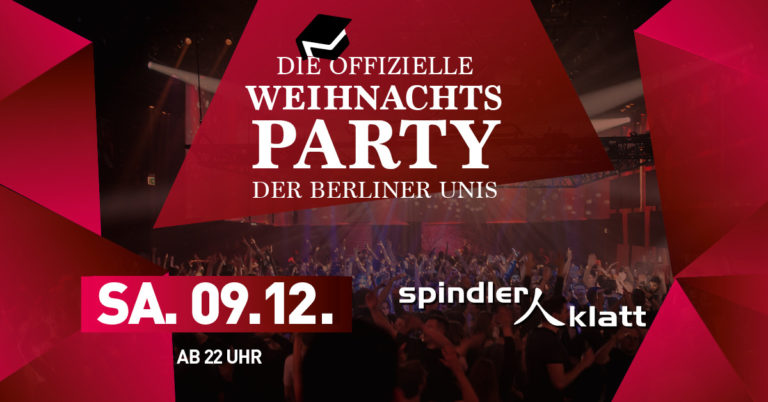 SAMSTAG, 9.12. AB 22 Uhr
Die offizielle Weihnachtsparty der Berliner Unis
Bevor es zur Familie geht, feiern wir mit allen Studenten & Friends die offizielle Weihnachtsparty der Berliner Unis! Freue dich auf tolle X-Mas Give Aways & den ein oder anderen X Mas Song!
Wir bieten euch zudem wie immer tolle Specials, super Musik und unsere beliebte Terrasse direkt an der Spree an!
Das ist DIE Party für alle Studierenden & Friends kurz vor Weihnachten!
Specials
X-Mas Give Aways
500 Shots for free
Große Terrasse mit Blick auf die Spree
Musik
House, Black, Classics, Pop, Alternative, RnB, Rock
Studi Hotline
0176-32993438
Tischpaket
8 Personen freier Eintritt inkl. 1,75L Vodka + 3L Mischgetränke für nur 299€
Location
Spindler & Klatt
Köpenicker Str. 16-17
10997 Berlin
Nahe U-Bhf. Schlesisches Tor
Eintritt
- kein Vorverkauf, nur Abendkasse
- Gästeliste (nur 8€ bis 0 Uhr):
Trage Dich unter www.studentenparty-berlin.de auf die Gästeliste ein
- Abendkasse: Mit allen Studentenausweisen nur 10€ all night long
- Abendkasse für Nicht Studenten: 15€
Webseite
www.studentenparty-berlin.de
Die Party ist ab 18 Jahren!
Bitte Personalausweis im Original mitbringen!!!
The official X-Mas Party of all Berlin Universites
We celebrate with you the great X-Mas Party on saturday, 9th of December from 10 pm at Spindler & Klatt1
We offer x-mas give aways, great specials, super music and our popular terrace directly located at the spree river!
Date
Saturday, 9th of December from 10pm
Specials
X-Mas Give Aways
500 Shots FOR FREE
Terrace at the spree river
Music
House, Black, Classics, Pop, Alternative, RnB, Rock
Hotline
0176-32993438
Table package
8 persons free entry incl. 1,75l Vodka + 3l softs for only 299€
Location
Spindler & Klatt
Köpenicker Str. 16-17
10997 Berlin
near U-Bhf. Schlesisches Tor
Entrance Fee
– no pre sale, tickets only at the box office
– Guestlist (only 8€ until midnight): Sign up for the guest list at www.studentenparty-berlin.de
– Box Office: With Students ID only 10€ all night long
– Regular Entrance Fee for Non Students: 15€
Website
www.studentenparty-berlin.de
Minimum age for admission 18 years! Please bring your ID Card (Original!!!)
Spindler&Klatt
Köpenicker Str. 16-17
10997 Berlin
Nahe U-Bhf. Schlesisches Tor